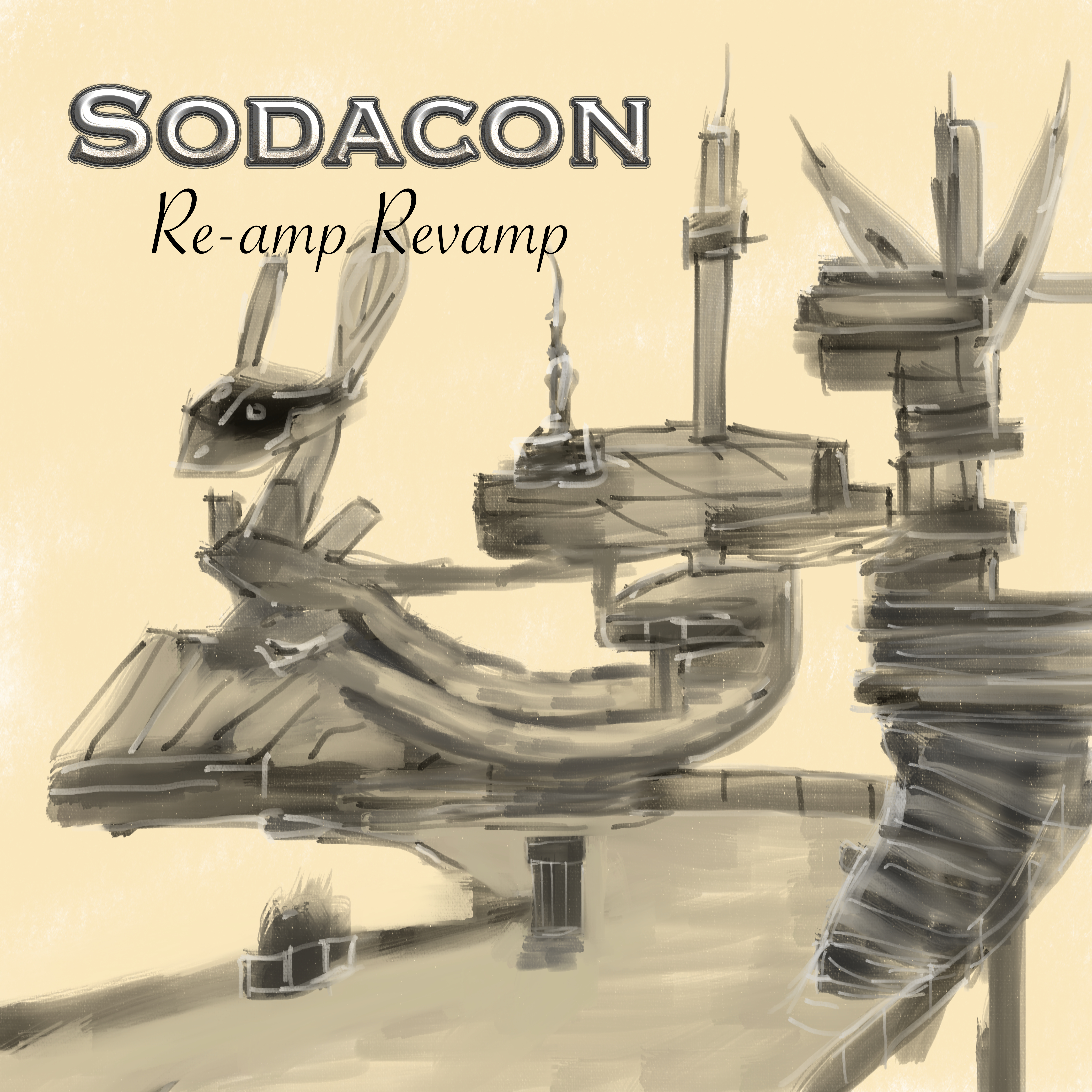 Re-amp Revamp is an alternate universe version of SpaceArtRock on steroids. 
    I did not plan on completing recordings or releasing music until later in the year. Yet here I am putting the finishing touches on Re-amp Revamp. It all started one day when I was searching through old folders and finding songs that I had not yet completed for one reason or another. In 2016 I recorded 'SpaceArtRock' which turned out to be another obscure Sodacon album. SpaceArtRock was recorded in the basement of my old home in Magna, Utah. It was a space rock romp that I recorded on my own, lacking professional, promotional or emotional support. I did the best I could with what I had at the time, and I didn't have a lot, yet SpaceArtRock still had some well-written songs and some bangers. Re-amp Revamp is an alternate universe version of SpaceArtRock on steroids. 
Creating music out of tracks found in a time folder 
     I went through the folder containing songs from 'SpaceArtRock' and found a few tracks that were almost finished but didn't make the album.  One such track was 'Rim of the World' which was nearly done except for guitars. A sarcastic and some would say laughable title and lyric befitting of Sodacon songs, yet given a spin unleashes a catchy little guitar-driven earworm. 'Turn the Mountains to Gold' was another track that was started during that time and only had an acoustic intro. I was able to add vocals and electric guitar using the Marshall Bluesbreaker plug and the finished master turned out creamy. Had I completed the song 8 years ago might not have been as sonically rich. 
Then I started exploring other folders. Sonic goodies from the vault 
   One by one I started finding older tracks to work on. That's when I came up with a name for the project 'Re-amp Revamp'. Not every track could be revamped and many of the guitar parts are new. A few of the selected classic songs had the guitars re-amped with new sounds or vocals re-vamped without destroying old performances. Some of these were skeleton mixes with vocals, bass, and drums with no guitar. I had been getting back into physical shape and in the mood to play guitar. After all, was said and done a majority of this project recorded new material. A majority of these songs have not been heard at all. I was able to bring back track All-Star Sci-Fi Fan re-mixed with the Console1 this time as track 7 with other songs written at the same time yet not on SpaceArtRock, hence the Alternate Universe. 'Go For It', another older track from long obscure acoustic 'A Friend Can Follow'. This one is sonically intense yet clean when pared with the Weiss master plug. I received an email stating Go For It was my most-played song back in the day on one of the distributor platforms. I hadn't heard it in years so I opened the project file, started mixing, and before I knew it was on Re-amp Revamp. 'Promises' is another one that I dug up from 09 felt almost effortless to mix because of the work that was done before. Not all the tracks pulled up in the folder could turn yet some did. 
Being my own best producer. Living my own best life. 
     Each time I start a new project I like to try something new and push myself creatively in ways I have not before. In my last project, Laniakea Unlocked I used a new DAW and created beats in Ableton, it was a synth and a lot of lo-fi and new mix techniques. I wasn't physically able to do a guitar album. This time around I was back in Logic yet using the Softube Console1 which I found to really gel with my workflow. I played guitar all over this thing. I had not planned yet before I knew it there was another album and new singles to release, just months after Laniakea Unlocked. There were some really nice EQ and other sounds that made their way onto the tracklist. It was nice to play my same Gibson SG and Epiphone acoustic and it was fantastic to mix with Console1. I was able to dial in some channel strips that I had never had access to before, the likes of Solid State Logic, Chandler, Summit Audio, Tube Tech, American, and British Class A. A lot of the re-amping came from these channel strips as well as the Marshall Bluesbreaker amp plug, the Silver Jubilee, and the Super Plexi Lead. Along the way, I found that some of the sounds I dialed in previously sometimes seemed to work. Being able to use these channel strips opened up a vibe for my creativity in a way I wasn't expecting. This was the next best thing to working with engineers or producers when I've often not had the chance. 
And finally…Wren Hollow the snowboarding ballad 
     The folder yielded one more skeleton with bass, vocals, and drums. The snowboarding ballad 'Wren Hollow'. I ended up reworking the beats, giving the vocals some shine, and throwing down some Gibson SG guitar through the Marshall Plexi-lead. Had I been further along on some of these tracks I may have included them on SpaceArtRock. I also have a slightly better workflow now and was able to get what I needed of my ears faster. In a way I didn't really create the album, just being a conduit for more creativity. Wren Hollow furthered that as it ended up somehow describing my time night snowboarding memories into a nice song ballad package. The breakbeats start out synth and then go straight to rock yet retain their ballad form. Speaking of rock it is one of the more rockin' Sodacons you'll hear since Paradox yet lyrically it's more poignant, especially tracks like "Violet Sun". It's a way to start the year and give my followers something nice while we get to the goodies planned for later.