5 Takeaways from the Room Six Las Vegas Summer Rocks Showcase at Cheba Hut
     
Room Six Las Vegas Delivers An Epic 
     It was a muggy August evening in Las Vegas yet the temperatures dropped just enough to make it bearable to perform outside on the patio. Room Six Las Vegas show host Joshua Courtright organized a very solid show for the artists and crowd. I enjoyed seeing sub-eating enthusiasts and music fans responding positively to the vibes created all through the night. Josh created the show as a way of saying thanks to the artists who have been interviewed on his Youtube channel. My interview was in 2019 and I was the 6th artist to ever be on the channel. Fast forward to now and he has interviewed countless artists. He takes part in frequent songwriter showcases at the Soulbelly Barbecue. Courtright himself is a very talented artist and started off the night plugging some of his songs on acoustic. A heartfelt thank you to the sponsors Cheba Hut Las Vegas, Happy Daze, and NV Nails Spa whose support made this show possible. Thank you @chrisrejectofficial for being the sound engineer for the evening. 
Before we continue to see all the performers and  Josh's review of the show: 
Subscribe to ROOM 6 Las Vegas and donate to Patreon. 
F#$k Joey Hines 
     This show featured amazing performers including AJ from Wyatt and the Ashes, soulful singing Kella T, Joey Hines, and Mandalyn Blue. As I watched each of the artists perform I was completely absorbed in the performances. AJ performed with some frenetic and memorable energy. I wouldn't mind checking out his band sometime. Kella T seemed to have an arsenal of songs ready and was ready to deliver in a very nice voice. 
After these two performances, the Joey and Mandalyn duo launched a jamming set of super talented songs, some featuring self-deprecation. He brought these t-shirts that said F$ck Joey Hines which I thought was brilliant marketing. His sidekick Mandalyn Blue was Rockin drums throughout the set and the two had good cohesion and change-ups at the end of each song. They harmonized pleasantly and at times took turns switching lead vocals. This set reminded me of the reverse of an artist I played on a show in 2016 called Richard Strater, the Pessimistic Troubadour. Yet instead of Pessimistic, he was the Funny Troubadour, throwing out songs like "I love you but I don't love Seether" and the sarcastic "Joel Olsteen" which made for some memorable chuckle moments. 
Follow their music on Instagram @joeyhinesmusic and   @mandalynblue and their band @themaybefour. 
The Crimson was Rioting
     On the surface, it seemed like a quirky lineup with 4 singer-songwriter acts and finishing the night with a heavy punk band. However, for those at the show, it seemed to line up perfectly with each songwriter Rockin' it and laying the groundwork for their heavier comrades to show up later and smash the roof off the patio. The amazing headliners @crimsonriotband are fronted by @roxygunn and @chrisrejectofficial.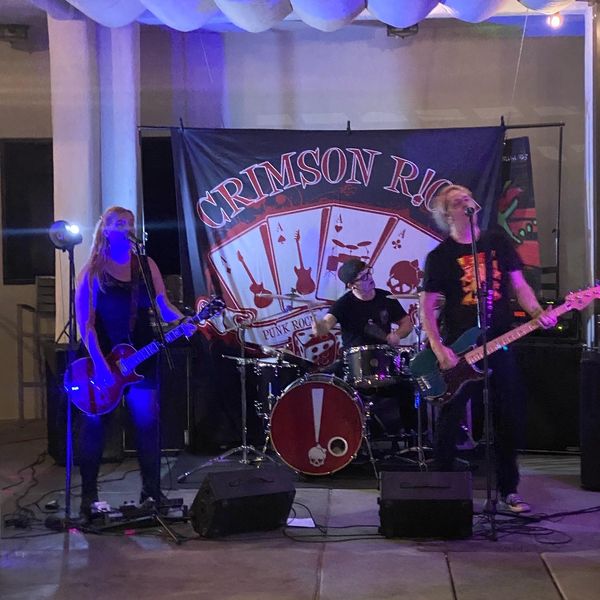 When these guys took the stage they talked about Joey Hines's 'Seether' song and did their rendition of Staind. Then they launched into fierce post-punk fire guitar tones with a deep beefed up base. @roxygunn switched between microphone and megaphone, spinning out epic riffs. Their drummer (I'll add his link if I can find it) had a lot of energy, and was spot on with the timing and infectious energy. It had been a long night of jams yet by the time Crimson fired it up I was game. During one of their faster numbers, @chrisrejectdofficial took off and ran up and down the plaza stairs near the stage.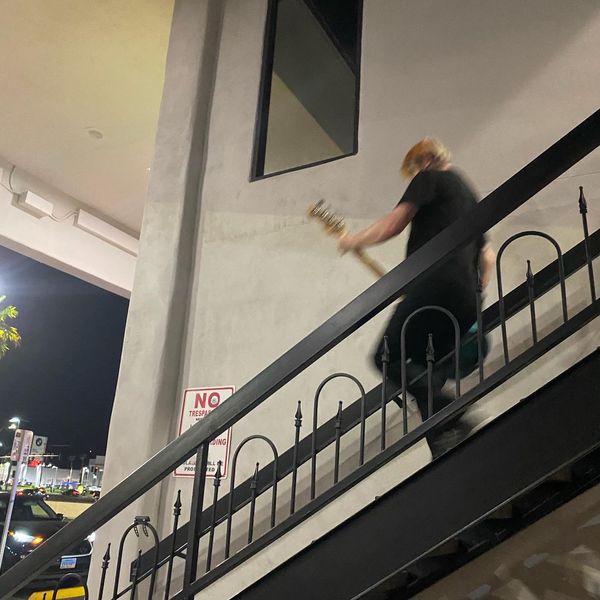 Check out their music projects @roxygunn and @chrisrejectofficial and @crimsonriotband. 
                             Commemorative T-shirts/Merch
     Room Six Las Vegas has some great merch and the show featured a commemorative t-shirt. I've never played a concert where the promoter hooked us up with t-shirts so this for me was a moment of gratitude. It's also one of the best t-shirts I've seen in a while. My wife sports the shirt and looks great in it. Joey Hines brought his merch as mentioned earlier. Room Six Las Vegas display included coffee cups, shirts, and various other merch items. See the link for more. I was able to bring out some Marc Antarez cassette tapes from the 2020 recording. All of this added to the cohesion of the night.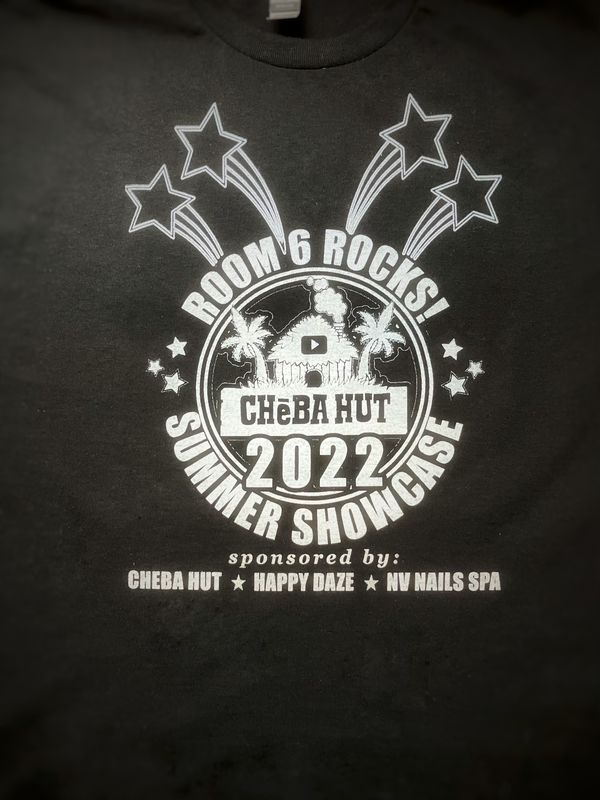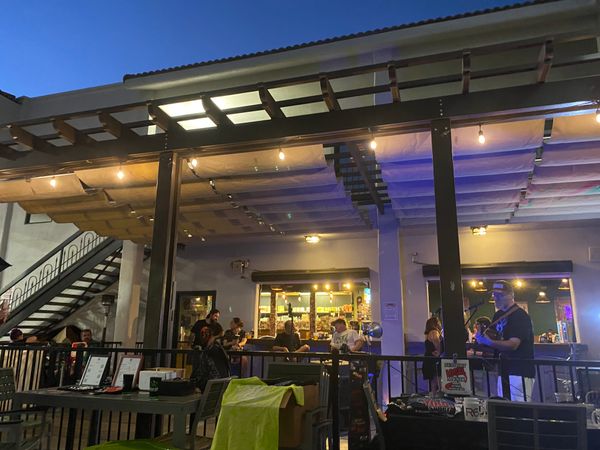 Marc Antarez - Back on Track
     The live stream that was captured shows Josh Courtright's jamming and the start of my set.
Before I could prepare to play live I had to finish recording Laniakea Unlocked, which is a pop-synth rocktronic album. Working in the studio in May and June and wrapping up the project beginning of July gave me time to prepare for the acoustic set. This was my first time out since 2019 at the Artisan.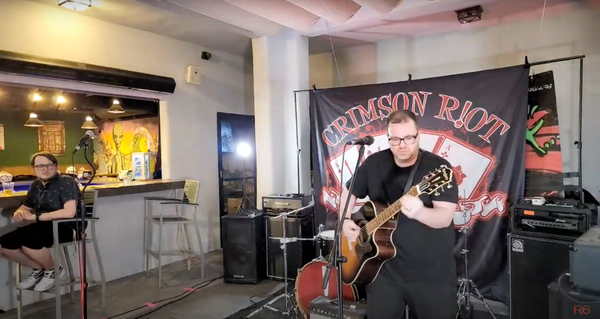 After months of being in music producer mode, suddenly playing acoustic at a rock show. To prepare I browsed my catalog to figure out which songs to perform. I played each one below. 
Setlist: 
1. Early Hour  (Sodacon)
This one is effortless to play and sing and I always get a good crowd response. I like to play it first it gets me in the mood for more. 
2. It Ain't Over Yet (Sodacon) 
3. Festive Strum (Sodacon) I usually save this one for holidays and family gatherings yet it seemed to garner applause. 
4. Solarium (Sodacon) - I played it as pretty and soulful as I could. Thank you for the applause what a great crowd. 
5. Now You're on Track (Sodacon) - When I first wrote this one I used to perform it with keyboards and guitar. I tried it one night acoustic at Artisan and that's how I've played it ever since. 
6. Chillin at the Cheba (Marc Antarez) 
Everyone had settled in by this point, An impromptu song with lyrics about sub-eaters at the Cheba Hut. 
7. Way Back Home (Sodacon) 
This was the 3rd song on the night from the Desert Life album. The last Sodacon album also includes some bangers. 
8. Can't Predict the Future (Marc Antarez) 
A nice way to close out a 45-minute set. An irresistible acoustic jam. 
     This was epic, thank you to the sponsors, the performers, and Room Six Las Vegas for inviting us out. Courtright did an amazing job setting up the lineup for this set. If the performers on this set were to tour it would be the type to gain traction and folks would enjoy it. One can only conclude that future Room Six concerts are going to be something to never miss. 
Subscribe to ROOM 6 Las Vegas and donate to Patreon.